Negotiating With a Manipulator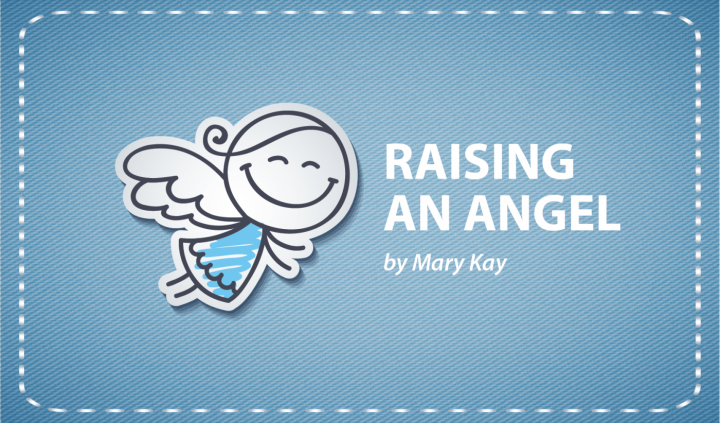 It was 5:30 a.m. and Jess needed to use the bathroom. Instead of returning to her room, she exited stage right. The sun was rising and that was all the incentive she needed to begin her day. Every time I redirected her to bed, she pushed the covers down and bolted toward the door. At that point, I was desperate and whispered in her ear, "If you let me sleep, I'll take you to Burger King for breakfast." Some would call this bribery, others would consider this negotiating. I think it's a test of her emotional IQ because she complied. She has learned that it pays to delay gratification.
The look in her eye said I'd better offer something good. To my relief, not only did Jess let me sleep in but she waited till I said, "Good morning, sunshine" before bounding out of her room. I didn't have to ask her twice to get dressed and she didn't hesitate to get my pocketbook before making a beeline for the car.
As promised, I drove to BK. Jessie was excited and chatted the whole way on her Talker. She can be food-driven, but as she's gotten older, she covets adventure over food — unless it's ice cream or M&M's. There's always an exception. Rarely do I play the Burger King card, which is probably what made this effective.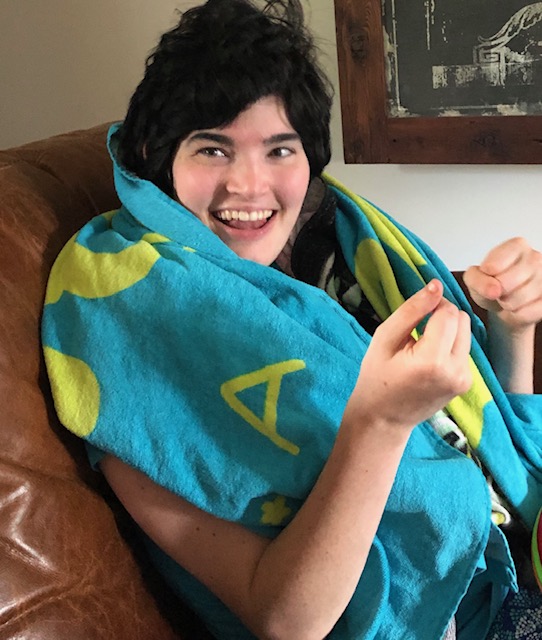 I've also used Jessie's obsession with water as a bargaining chip. Sometimes I tell her the night before about our plans to go to the beach or the pool. Other times I'll remind her so she stays in bed longer. The days we stay home, she collects beach towels and swimsuits and wears them around her neck like leis. I've tried hiding these items in a car or in the back of a closet, but to no avail; she finds them. Jess will even take towels with her to bed. This behavior emerged after we traveled to Maui. It was there she fell in love with the sea.
Fortunately, we live an hour from the beach and get there once a week. Stating the obvious: It isn't the same as Maui. The water is significantly colder and this is enough to keep her onshore. Instead, she prefers sifting sand, scanning the shoreline for dolphins, and watching seagulls pull mussels from their shells.
***
Jess set the dinner table at 4:00. She placed the napkins down and then put the correct number of forks in the general vicinity. Not perfect, but I liked that she did her job without prompting. Even though the silverware was in disarray, I didn't correct the position. I didn't want to undermine her effort (she has problems with motor planning and visual orientation, but that's another story). Because we eat as a family, and her dad hadn't finished work yet, dinnertime was nonnegotiable. Even though this was a not-so-subtle hint that she was ready to eat, Jess didn't argue and instead eagerly anticipated dinner.
There is a fine line between tasks being too hard and that glimmer of success. I think Jess lost interest in toys and games because she couldn't manipulate them properly. Her motor planning and visual challenges were too great. Nonverbal people are often not heard. Decisions are made for them without their input. However, when Jess and I negotiate, we find common ground and that makes us both happier.
To read more about our journey, visit my blog. We wouldn't even have a story if Jessie hadn't found her AAC voice. Also, check Angelman Syndrome News each month for future columns.
***
Note: Angelman Syndrome News is strictly a news and information website about the disease. It does not provide medical advice, diagnosis, or treatment. This content is not intended to be a substitute for professional medical advice, diagnosis, or treatment. Always seek the advice of your physician or other qualified health provider with any questions you may have regarding a medical condition. Never disregard professional medical advice or delay in seeking it because of something you have read on this website. The opinions expressed in this column are not those of Angelman Syndrome News, or its parent company, BioNews Services, and are intended to spark discussion about issues pertaining to Angelman syndrome.