Angels Change Over Time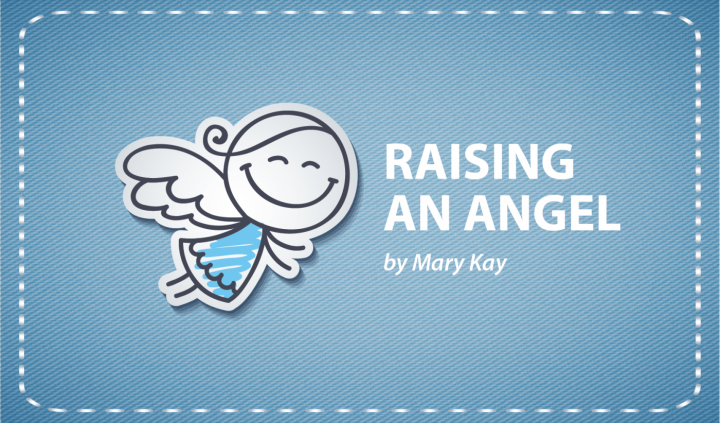 I was on sabbatical this summer and didn't write for BioNews Services or my blog. Sometimes you don't realize how burned out you are until you stop. But the longer I went without writing, the more anxious I became. When people asked if we were OK, all I could say was that I didn't have anything to write about because life was good. Emotions trigger my creative side, so it's new territory for me to not be in fight mode.
If blogging was a thing when my daughter, Jessie, was 5 or 10 years old — the stories would never end. Everything was a struggle for her, especially when it came to medical challenges and school, so it's rather remarkable that our life has become so uneventful. I never thought this would be possible!
Jessie's growth has been steady, if slow, these past six years. A job coach worked with her to break down motor plans and keep us from jumping in to help her. They emphasized that she needed to learn to help herself instead of relying on us to do things for her.
The next critical piece in her development was giving her a voice, which is vital. Every time I read about an Angel sitting in protest, most of the time, they have no form of augmentative and alternative communication (AAC). Behaviors are ultimately tools of communication.
I recently read about a speech-language pathologist who was on a long flight. The father she sat next to apologized that his son had severe nonverbal autism. She created a rudimentary AAC board, and to her delight, the boy was able to express himself.
It's so important to find a connection. When you are nonverbal, you have no control over your life and decisions are made for you.
Jessie's lack of control became a critical issue when she turned 20. By that point, she was fighting us with every fiber of her being to maintain control. She would sit down if she didn't want to go somewhere. If you pushed her too hard, she would hit you or grab your hair while giving you an angry, and sometimes mischievous, steely gaze. Six months later, within a week of finding her AAC voice, these negative behaviors began to fade.
Life has become more routine, but I still get excited when I see Jessie learn something new. The highlight of my summer was witnessing her buckle her own seatbelt. I would love to say it was because I patiently worked with her, but that is not the case. I suspect Jessie mastered that skill after going out with a woman from Kaleidoscope on Saturdays. It's nice for her to be with someone other than her mother, especially at this age.
We also removed the lock from our pantry door. So far, Jessie has respected the boundary we put in place. She tells us via Talker what she wants. If I'm not there to respond, she will help herself to a snack, which is OK because it counts as if I heard her when she uses her Talker. The exciting part is that she now employs portion control and even puts the container back in the cabinet when she's done. These all sound like little things but they are big for us.
Jessie's new favorite thing is to watch Kelly Clarkson. Each show begins with a song, and Jessie stops what she is doing and dances like a fan in the audience. Yesterday, Kelly had a rapper on the show who performed his latest hit, "Drew Barrymore." I didn't know the song, so I found it on YouTube. All I can say is he's no Barry White. Jessie didn't like the song, either. No dance moves — she just put her hand up and walked out of the room.
My girl is growing up. She has her own likes, dislikes, and opinions. She even has friends that she made without my input. Yes, it was an uneventful summer, and we are in a good place.
To read more about our journey, visit my blog. We wouldn't even have a story if Jessie hadn't found her AAC voice. Also, check Angelman Syndrome News on Fridays for future columns.
***
Note: Angelman Syndrome News is strictly a news and information website about the disease. It does not provide medical advice, diagnosis, or treatment. This content is not intended to be a substitute for professional medical advice, diagnosis, or treatment. Always seek the advice of your physician or other qualified health provider with any questions you may have regarding a medical condition. Never disregard professional medical advice or delay in seeking it because of something you have read on this website. The opinions expressed in this column are not those of Angelman Syndrome News, or its parent company, BioNews Services, and are intended to spark discussion about issues pertaining to Angelman syndrome.