An Angel's Gift of Empathy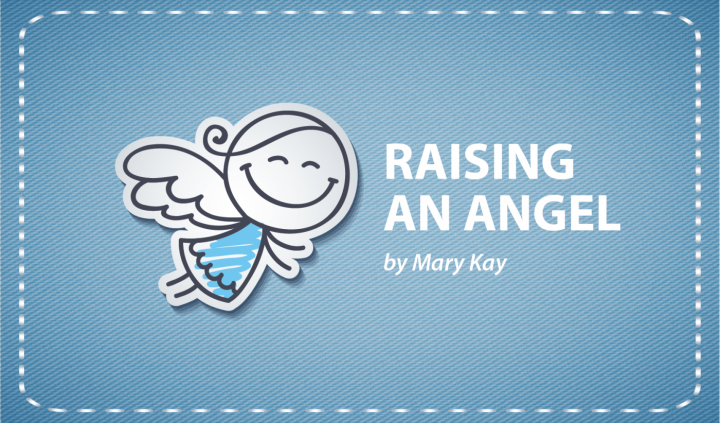 We are keenly aware of the challenges of Angelman syndrome: seizures, sleeplessness, and being nonverbal to name a few. However, the disorder has positive aspects, too.
My favorite of my daughter's traits are her sunny disposition and ready smile. I love that she is a glass-half-full kind of girl. Sometimes I stare at her without expression, and she mirrors me with a "What you talkin' about, Willis?" look. Then I give her a big smile, and without skipping a beat, she beams back at me. I am delighted to watch her interpret and process what she sees. When she hears or sees someone that is upset, such as a baby crying in church, she gets upset, too. She's sensitive like that.
Jess is drawn to people who appear to be preoccupied. When we first started attending church as a family, she noticed a redheaded woman and wanted to sit next to her. For the next six weeks, of the 150-strong congregation, she made a beeline for this lady. Finally, we relented, much to Jessie's delight, and asked the woman if the seats next to her were available. From then on, we sat together. We learned that the woman had recently broken up with her boyfriend and was going through a difficult time. She shared that she enjoyed Jessie's attention. The best part of the story is that we became friends.
I have come to realize that when you have a child with special needs, people will either avoid you or engage with you. I love that Jessie can separate the wheat from the chaff. 
Just as there are people Jess feels compelled to meet, there are others she wants to avoid. A year ago, she suddenly refused to get into the car to go to her program. She took one look at the driver and went back to the house. I had no idea what the problem was. She doesn't have the same driver every time, so it took me a few incidents to figure out it was this person who was causing her alarm. Finally, I asked Jess, "Did this driver do something to you or someone else?" She tapped "no."
"Did she say something that upset you?" Jess tapped "yes."
I asked, "She said mean things?" Jess tapped "yes" again.
I informed the program's director, but they couldn't do anything except give Jess another driver. They had no grounds to fire her even though Jess told me there was something wrong. That's the downside of being nonverbal: It's difficult to get people to believe you.
One day, the director called to warn me that they were shorthanded and that driver had Jessie's route. I had a serious talk with Jess. I told her that I could not drive her to the program and I needed her to get into the car when it came. I promised that I would not ask her again to get in the car with this driver. Jess complied. Soon afterward, the driver left the program. However, Jess still checks to see who is driving before she gets in. Jess doesn't lie and doesn't do drama, either. I love her self-awareness, and I trust what she tells me.
Jess has so many good traits. Imagine how much nicer the world would be if everyone had her empathy. It's one of her special gifts, and it makes me realize how lucky we are to have an Angel.
To read more about our journey, visit my blog. We wouldn't even have a story if Jess hadn't found her AAC voice. Also, check Angelman Syndrome News on Fridays for my upcoming columns.
***
Note: Angelman Syndrome News is strictly a news and information website about the disease. It does not provide medical advice, diagnosis, or treatment. This content is not intended to be a substitute for professional medical advice, diagnosis, or treatment. Always seek the advice of your physician or other qualified health provider with any questions you may have regarding a medical condition. Never disregard professional medical advice or delay in seeking it because of something you have read on this website. The opinions expressed in this column are not those of Angelman Syndrome News, or its parent company, BioNews Services, and are intended to spark discussion about issues pertaining to Angelman syndrome.