When Angels Meet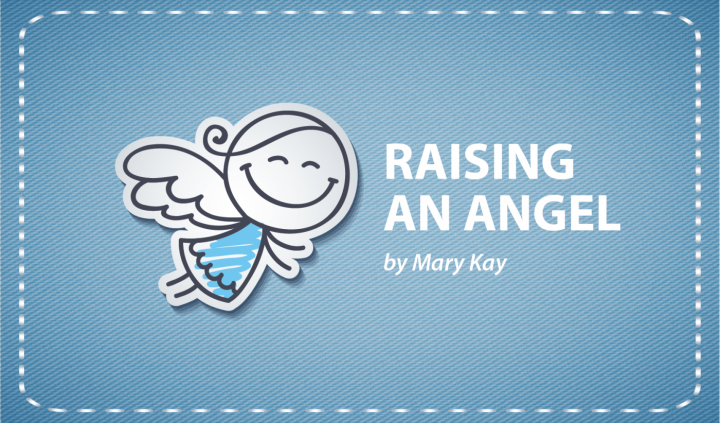 Several years ago, when I was given the choice of going to an American Speech-Language-Hearing Association Convention or the Closing The Gap (CTG) Conference to help in the Speak for Yourself booth, hands down, I chose CTG. The reason was that I heard there'd be many Angelman moms attending. Until that time, I had only met one Angel parent. I didn't realize a large networking community was out there. I was intrigued to meet them.
I was in the booth for the most part, but I did listen in on a couple of lectures. One night, a whole gaggle of Angelman mothers met for dinner. It was a memorable evening, full of laughter. Lord knows we all have shed enough tears. It was grounding to be in such remarkable company. I have stayed in contact with many of the mothers, and I've been able to see a few again. Last week, our family met Jennifer and her family for dinner because they were in the Garden State.
Although Jess had never met this family before, she spotted them as soon as they arrived. I swear she has Angel radar. The first time I recognized this ability was when she heard a teen girl Angel on Facebook and drew to her voice like a moth to a flame. Jess must have watched that video clip a dozen or more times. It must be validating to see another girl much like herself.
I was pleased that Jess ordered her drink (she likes root beer) and relieved she felt comfortable enough to answer a few questions over the course of the evening (sometimes she gets shy in front of people she doesn't know). While Jess kept an eye on the cute boy at the other end of the table, his mom had brought an iPad with Speak for Yourself and was loaded with questions. There is nothing I love more than talking SFY! It's so easy that even I can teach someone how to use it!
When I noticed the restaurant was nearly empty, I looked at my phone, and it was nearly 10 p.m. — time to call it a night. As we got up to leave, Jess made a beeline for Caleb. She wanted to say hello to the boy she had been smiling at all evening. The mischievous glint in his eye spoke volumes. They both were happy to have their photo taken together. We couldn't have asked for a nicer or more relaxed evening.
On the drive home, we reflected on our evening. Jess said she enjoyed herself, and this was the first time my husband met another Angel father. He said he imagined it was kind of like being in AA ("Not that there is anything wrong with that."). He appreciated not having to explain himself to the group because everybody understands the challenges faced. 
We know some couples who embrace Jess and can easily have a conversation with her, and others who feel awkward and don't recognize her as an adult. They don't know how to engage with Jess and her AAC device, which throws them for a loop, too.
We are just like any other family out having a good time, and that is how it should be. 
When Angels meet, there is much to rejoice about.
To read more about our journey, visit my blog. We wouldn't even have a story if Jess hadn't found her AAC voice. Also, check Angelman Syndrome News on Fridays for my upcoming columns.
***
Note: Angelman Syndrome News is strictly a news and information website about the disease. It does not provide medical advice, diagnosis, or treatment. This content is not intended to be a substitute for professional medical advice, diagnosis, or treatment. Always seek the advice of your physician or other qualified health provider with any questions you may have regarding a medical condition. Never disregard professional medical advice or delay in seeking it because of something you have read on this website. The opinions expressed in this column are not those of Angelman Syndrome News, or its parent company, BioNews Services, and are intended to spark discussion about issues pertaining to Angelman syndrome.