Looking Forward, Looking Back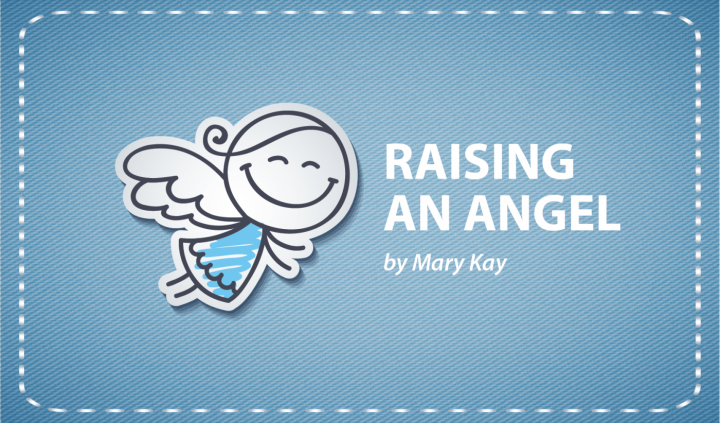 Why is it that when you see a photo of a baby, you can't imagine what they will look like when they are grown, yet when you meet someone as an adult, it's not difficult to identify their photo when they were little? I guess we could cheat and use age-progression technology, but this still doesn't tell us anything about the people they will grow to be, nor does it tell us what their interests or special gifts are, either.
When I meet with the only local Angel mom I know, I'm sure she's wondering about her daughter's future. We are a fascination to her because Jessie is nearly 20 years further down the Angel road. I guess when there is no road map, it helps to find others who have gone before you.
During our conversation, she said she didn't think she was doing enough for her daughter. Of course, I said this wasn't true and shared that I've heard other moms, along with myself, utter those same words. We want so much for our children, we often feel as if we are failing them.
I could see on her face that she didn't believe me, so I pointed out all the huge strides they had made over the last three years. When we first met, they couldn't have any pictures on the wall. Nothing was safe, not even a lamp, from her Angel. At the time, she didn't have any form of communication, and the school insisted on using the Picture Exchange Communication System, or PECS.
Now, family portraits hang on the wall, she's in a big girl bed, and a few other things that shall remain private. The biggest change of all is that they have a new AAC device*, and I was thrilled to hear the mom talk about the first real conversation they had.
When Jess discovered the power of her AAC voice, we began to see changes in her. Until that time, Jess was very frustrated and would take her aggression out on the closest person to her. However, once she was "heard," we watched her anger fade away. This doesn't mean that she was given everything she asked for, but it gave us a starting point.
Before her voice, we found ourselves in the habit of giving Jess everything thing she gestured for. She would interrupt conversations expecting others to wait until her needs were met. Now that she has a voice, she is no longer large and in charge.
I'm guessing there are many families like us who are just trying to manage their families needs, but sometimes I think we take the role of caretaker so seriously that we stop treating them like the child or the adult that they are. At some point, we stop presuming competence and go into survival mode, and this is where it's easy to get stuck. Thank goodness we had someone pull us aside and retrain us with new tools before it was too late.
As important as it is to have short-term goals, it is equally important to have long-term ones. Our goal is for Jessie to be as independent as she can be. For example, if we want Jess to have appropriate manners in the community, then she has to be out in the community to learn. As they say: Practice makes perfect. We are far from perfect, but her social skills have improved immensely.
It's fun to look back. For some reason, it's much easier to remember the good times while the hardships fade. At the same time, I try to live in the moment and not look too far into the future. Hopefully, the foundation we are building now will serve Jess well when she's much older.
***
* Finding an AAC wasn't the only thing this family did, but communication is the foundation that we build everything on.
To read more about our journey, visit my blog. We wouldn't even have a story if Jess hadn't found her AAC voice. Also, check Angelman Syndrome News on Fridays for my upcoming columns.
***
Note: Angelman Syndrome News is strictly a news and information website about the disease. It does not provide medical advice, diagnosis, or treatment. This content is not intended to be a substitute for professional medical advice, diagnosis, or treatment. Always seek the advice of your physician or other qualified health provider with any questions you may have regarding a medical condition. Never disregard professional medical advice or delay in seeking it because of something you have read on this website. The opinions expressed in this column are not those of Angelman Syndrome News, or its parent company, BioNews Services, and are intended to spark discussion about issues pertaining to Angelman syndrome.