Angels Need to Learn Proper Manners, Too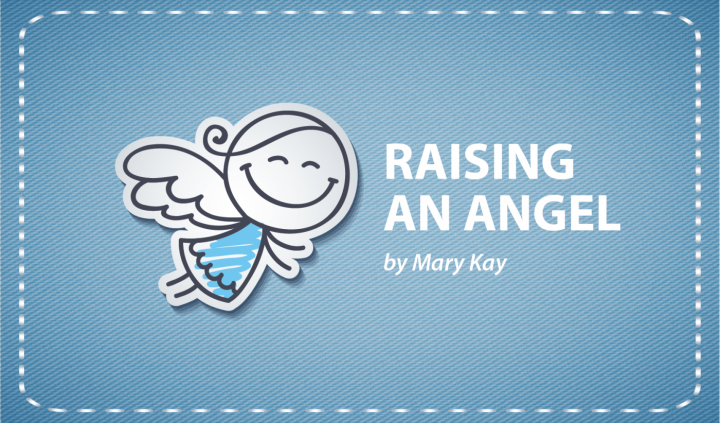 If my daughter, Jessie, doesn't like what she hears, she will walk away.
When her boyfriend — more of a buddy than a romantic interest — gets frustrated, he raises his voice and curses like a sailor. Jessie is unimpressed by his outbursts and avoids him when he's in a mood. Mind you, she likes him because he is verbal; they enjoy each other's company. But it pleases me that Jessie is making wise choices and is mature enough to walk away. I'm trying to raise a daughter with appropriate manners.
Jessie is an adult, so it's important for her to express herself with appropriate language. However, we've decided what words are acceptable. If she wants to say something stronger, she is able to spell it out using her Talker.
Jessie does not like hearing the F-bomb, especially in song lyrics. That kind of language isn't meaningful and doesn't impress her. But there have been a few times when Jessie has used strong language. For example, a vehicle drove within inches of her as we were heading into a fast-food restaurant. They didn't seem to notice us in the parking lot. Jessie reached for her Talker and said, "Dumbass." When we got inside, we added "reckless" to Jessie's description of the driver.
I knew at that moment that I could trust Jessie to use words appropriately.
There's no doubt in my mind that Jessie says only a fraction of what she is thinking. One time, Jessie and I were in the waiting room of a speech therapist with another family. One of the boys was talking nonstop. His words seemed almost nonsensical. After about 10 minutes of mindless chatter, his older brother said, "I am not amused" — which, of course, I found amusing. At the time, Jessie had only spoken a few words. I developed a new appreciation for silence after this encounter.
Jessie doesn't feel the need to fill the silence with chatter, though she mumbles on occasion, which I discourage. I want her to express herself, but I also want her to be mindful of those around her. Mumbling might be Jessie's way of talking to herself. I'm sure the words are clear in her mind, but they don't come out that way.
If we're in a movie theater or at church, Jessie needs to respect people. Fortunately, she has the ability to set her Talker to "whisper mode," which allows her to talk without interrupting those around her.
If Jessie wants people to respect her, she needs to use proper manners. We expect a typical child to mind their p's and q's, so there is no reason to not expect the same from our angels.
To read more about our journey, visit my blog. We wouldn't even have a story if Jessie hadn't found her AAC voice. Also, check Angelman Syndrome News on Fridays for future columns.
***
Note: Angelman Syndrome News is strictly a news and information website about the disease. It does not provide medical advice, diagnosis, or treatment. This content is not intended to be a substitute for professional medical advice, diagnosis, or treatment. Always seek the advice of your physician or other qualified health provider with any questions you may have regarding a medical condition. Never disregard professional medical advice or delay in seeking it because of something you have read on this website. The opinions expressed in this column are not those of Angelman Syndrome News, or its parent company, BioNews Services, and are intended to spark discussion about issues pertaining to Angelman syndrome.