My Angel Is Becoming More Independent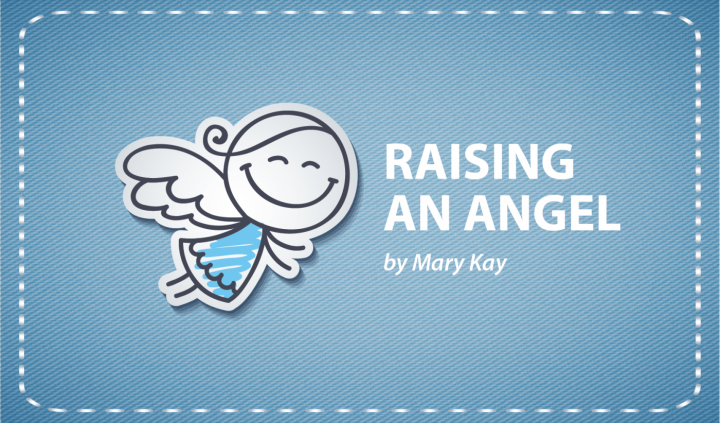 For the longest time, my daughter's motto was, "I may not know where I'm going, but I want to get there fast."
Jessie wore overalls as a kid, which gave me something to hold onto. But she started pulling me by the hand as she grew older. Jessie would plant herself on the ground if she didn't want to go wherever we were headed.
Of course, Angels are known for nonverbal communication. Between Jessie's communication style and my need for control, holding onto Jessie was like holding sand in my hand. She was tired of one-way conversations. The tighter I held her, the more she slipped through my fingers.
Jessie desperately wanted to explore on her terms, but I feared she would be a bull in a china shop. She often ran into people because the fastest route was a straight line — damn the torpedoes, full speed ahead.
For example, Jessie once saw my mother at the market. She learned that she could slip out of my grasp if she twisted her wrist. She nearly knocked an older man down as she made her way to my mom. He turned to her and said, "Now, wait just one minute, young lady." I apologized, and he softened a bit when he assessed her.
Jessie became more difficult as she grew older. I didn't want to shop, and when I had to, I wanted to hold Jessie more tightly. Of course, avoiding problems doesn't make them go away. It makes them bigger.
Life changed when Jessie found her augmentative and alternative communication (AAC) voice. Life is much more pleasant when you have a say in things, and when people aren't telling you what to do all of the time. Jessie realized that words were powerful, and we were able to relax our grip.
We recently joined our family in Washington, D.C., for a long weekend. The first night, all 24 of us dined at Circa. Remember the part where I learned to give Jessie more free rein? Well, my knee jerk reaction is still to hold her back. Jessie wanted to leave the table between dinner and dessert, and I wanted her to stay put.
Finally, I acquiesced. She just wanted to say hello to people she knew or was excited to see. I was pleased and relieved but also annoyed with myself for not allowing her to socialize. Jessie has never been a runner and has always kept her father or me in her sights. However, I find myself hovering in large crowds.
The next day, we broke into two groups of 12 and explored the city. We went to the White House Visitor Center, the Lincoln Memorial, the Korean War Memorial, and the Washington Monument. Then we stopped for a late lunch. Jessie walked over 6 miles without complaint (we should add a 5K to our bucket list). I only held her hand when the path was uneven or while we waited for a stoplight. I also held her hand near the end in case she tripped and fell because of fatigue (which she did).
A few short years ago, Jessie would plant herself on the ground in protest if we walked more than half of a mile. It's rewarding to witness milestones. Don't let anyone tell you that learning stops when they age out of school.
Washington is very accessible, and the museums are free. Because of Jessie's ataxic gait and wheelchair, employees guided us to the short line. Standing for long periods is not one of Jessie's strengths. Next time, I think we will take a tour so Jessie can hear the history. I think that would be more satisfying for her. She may not like it when people tell her what to do, but she does absorb information.
On the last day of our trip, we attended a Washington Wizards basketball game. The national anthem played as we made our way to the box seat. Jessie wanted to sit, but I demanded she stand, which made her mad. In hindsight, I should have let her settle and get her bearings before encouraging her to stand. Another mom fail. I guess I'm just as much of a work in progress as she is. I need to learn to let go.
We also attended a Super Bowl party. The hosts were the only familiar faces, but I let my guard down, and Jessie was independent. Other than helping her make a plate of food, I wasn't needed. Kansas City may have won the Super Bowl, but Team Jessie won that night, too.
To read more about our journey, visit my blog. We wouldn't even have a story if Jessie hadn't found her AAC voice. Also, check Angelman Syndrome News each month for future columns.
***
Note: Angelman Syndrome News is strictly a news and information website about the disease. It does not provide medical advice, diagnosis, or treatment. This content is not intended to be a substitute for professional medical advice, diagnosis, or treatment. Always seek the advice of your physician or other qualified health provider with any questions you may have regarding a medical condition. Never disregard professional medical advice or delay in seeking it because of something you have read on this website. The opinions expressed in this column are not those of Angelman Syndrome News, or its parent company, BioNews Services, and are intended to spark discussion about issues pertaining to Angelman syndrome.