This Is What Keeps an Angel Mom Up at Night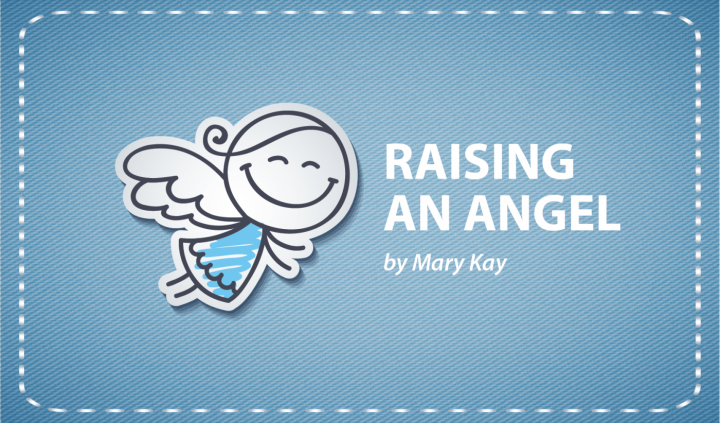 Three things keep me up at night: worrying that my daughter's seizures will return, thunderstorms, and a waning gibbous moon. This past month, we hit the trifecta and experienced all of the above.
I saw a seizure a few weeks ago. It was fleeting, a two-second bobble. To anyone else, it might have appeared that my daughter, Jess, had lost her balance. But I knew it was more than that. The next day, while standing in the kitchen, it happened again. Jessie's body trembled twice, and I instinctively pulled her close. It passed as quickly as it came.
Jessie has been off anti-convulsant medication for over 10 years. We can live with the occasional absence seizure, and I haven't seen any other types until now. Her seizure history has allowed me to detect an event with just a glance. This heightened awareness is good, but not a feature I can turn off.
Midweek, we had our biggest thunderstorm of the season. Only an eclipse can turn the house as dark in the middle of the day. As the howling winds increased in volume, they warned us that the storm was moving closer, which caused me to panic. Immediately, I made sure Jess had her shoes on, then I prepped our backup sump pump, filled water pitchers, and packed an emergency bag just in case.
It then dawned on me that seizures are just another form of electrical storms. No wonder these both make me anxious.
The following night, we had a waning moon. I was too restless to sleep. Jess had put herself to bed at 8 p.m., but started murmuring after midnight. I heard her take herself to the bathroom, but she didn't go back to bed.
Instead of fighting with her to stay in her room, our compromise was to sleep wrapped in a comforter in the den with our dog, Roxy, curled up at her feet. After a couple of hours, the moaning stopped, and I was able to coax her back to bed. Apparently, there are more than three things that keep me up at night.
Truth be told, a long laundry list of thoughts rolls through my mind. Just about everything is out of my control. Such as how will Jess manage when we are gone? Will her special needs trust have enough funds, or will she be at the mercy of the state? Can we count on the people in her circle to stay in her life? Will she express her needs well enough to be understood? Most important of all, will the people who support Jess listen to her and allow her to make her own decisions?
These are the real things that keep me up at night. No doubt, I'll be her guardian angel. But I pray that she has earthbound angels watching over her as well.
To read more about our journey, visit my blog. We wouldn't even have a story if Jessie hadn't found her AAC voice. Also, check Angelman Syndrome News each month for future columns.
***
Note: Angelman Syndrome News is strictly a news and information website about the disease. It does not provide medical advice, diagnosis, or treatment. This content is not intended to be a substitute for professional medical advice, diagnosis, or treatment. Always seek the advice of your physician or other qualified health providers with any questions you may have regarding a medical condition. Never disregard professional medical advice or delay in seeking it because of something you have read on this website. The opinions expressed in this column are not those of Angelman Syndrome News, or its parent company, BioNews Services, and are intended to spark discussion about issues pertaining to Angelman syndrome.