A Traveling Angel Earns Her Wings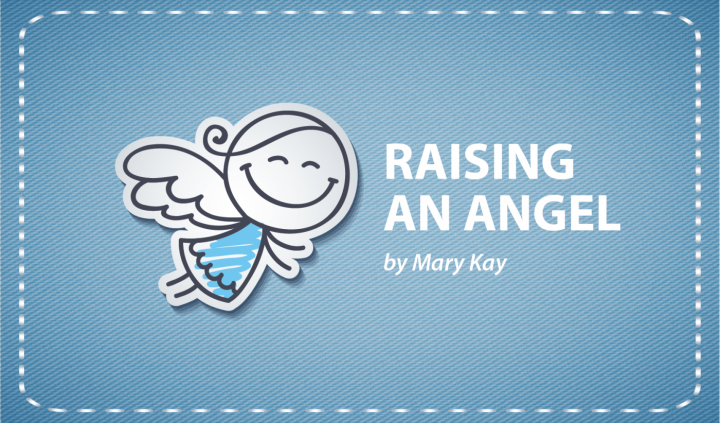 If I had to choose a traveling partner or a moving buddy, it's a toss-up between my husband and my daughter. He's the driver and the one with the credit card, but she is the one who paves the way.
This weekend, we flew to a wedding. As soon as we arrived at the airport, I realized we hadn't confirmed our flight, which meant we didn't have assigned seats. Premier travelers check in on the upper floor at Newark, so we headed toward the escalator to join the masses, and a woman who worked for United saw Jess (it's like she's a celebrity or something) and told us to stay where we were to check in. After our passes were printed, wheelchair assistance was provided. We breezed through security, bypassing 100 people, then another cart appeared to take us to our gate, which was already boarding. I can get used to this kind of service.

Jess is a good traveler. However, she hasn't always been easy to travel with. For more years than I care to admit, I held her too tightly. This resulted in her dragging me, which took the fun out of our adventures. She was like a can of soda that had been shaken, and her effervescence couldn't be contained. When I stopped hovering and controlling her every move, it gave her the space she needed, and she learned to pace herself. 
After landing, we drove two and a half hours north to visit family and then backtracked one hour to our hotel. My husband and I chatted about the wedding and our plans for the next couple of days, while Jess chimed in the conversation (using her Talker) and complimented her father on his driving (in the rain) before asking the obligatory, "Are we there yet?"
The following couple of days, we spent as much time in the sun as our bodies could tolerate. The ocean had a long, shallow entry and the waves were small. Jess swam some but preferred to sit on top of the waves, treading water as the swell passed through her.
After our ocean swim, we showered the sand off our bodies. We couldn't get to our room without walking by the pool. Water for her is like a seafood diet — if she sees it, she wants it — and into the pool she went. There was no time agenda, but we did need to be careful of the sun for my fair maiden.
For years we planned fun things to do only to be disappointed because nothing ever goes the way one expects. But not this time. Jess enjoyed sightseeing (drinking from the fountain of youth), and she never objected when we went out to eat. She was a free-moving spirit, and we were all enjoying ourselves. I asked her if she preferred the beach or the pool, and her response was, "Hawaii favorite I thing" (sometimes she uses a word approximation, in this case, thing for think).
At the wedding reception, I found myself falling back into old habits and confined Jess to the table. I was afraid to let her go. I feared she'd either step on someone's pretty, polished, sandaled feet or bump into an older person and knock them over. Thank goodness Jess' cousin made a point to sit with her (which pleased her to no end). It's more fun for her to be with people her own age. She was content with watching the party and "chair dancing." When it was time to leave, Jess made a beeline for the dance floor. I think she must have planned this all night. After performing her signature bounce and goal moves, she was satisfied to return with us to the hotel.
Maybe I should have let her socialize on her own terms? Maybe I shouldn't have restricted her? Unfortunately, the helicopter mom in me couldn't risk it.
Overall, our trip was perfection. There were no lines, no waiting, good weather, and a gracious family. I imagine this is what typical families experience. Jess even earned her wings on the plane! Who knew vacation could be so easy? Now that Jess is older, she doesn't get as overwhelmed with sensory overload as she did when she was little, and she's dealing with transitions as if she were a world traveler. I know her not having to stand in long lines makes a huge difference. Besides her delightful personality, getting bumped ahead in lines is one of the few perks that come with her disability.
Some people have to go online to find someone to journey with. Thank goodness I've got my travel buddy — and I'm not trading.
To read more about our journey, visit my blog. We wouldn't even have a story if Jess hadn't found her AAC voice. Also, check Angelman Syndrome News on Fridays for my upcoming columns.
***
Note: Angelman Syndrome News is strictly a news and information website about the disease. It does not provide medical advice, diagnosis, or treatment. This content is not intended to be a substitute for professional medical advice, diagnosis, or treatment. Always seek the advice of your physician or other qualified health providers with any questions you may have regarding a medical condition. Never disregard professional medical advice or delay in seeking it because of something you have read on this website. The opinions expressed in this column are not those of Angelman Syndrome News, or its parent company, BioNews Services, and are intended to spark discussion about issues pertaining to Angelman syndrome.