A Tale of Two Angels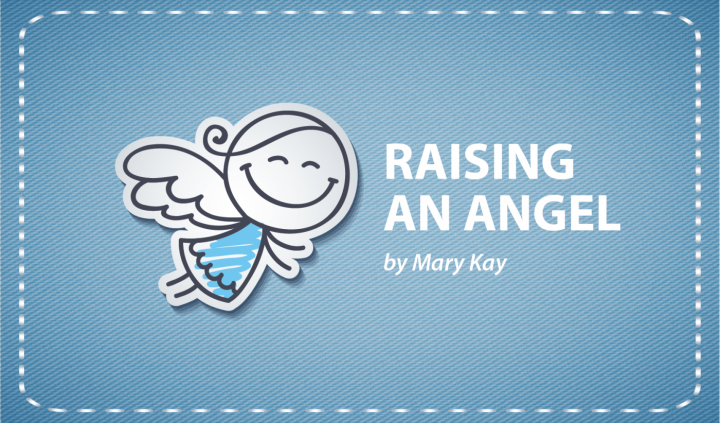 It's hard to forget the first Angel I met. She was an easy baby, only fussed if tired, hungry, or had to poo. When she was barely a month old, during a bath, her mom discovered an inguinal hernia. Before the baby turned 2 months, she had her first surgery, but it was not to be her last.
At her 1-year-old well-check, the baby was starting to stand but hadn't yet taken her first independent steps. The doctor said not to be concerned, "She's probably just a late walker." But, when the mom shared that her baby didn't look her in the eye, but focused on her eyebrows, the demeanor of the doctor changed and he studied the baby closer. In a somber voice, he told the young mom to make sure she found a new doctor as soon as possible after they move to a different region.
There were many new doctors that this baby would see. She'd have strabismus surgery, get fitted for an orthotic (and later have foot surgery), was under the care of a urologist (one of her kidneys was stunted), and she also needed a neurologist due to the onset of seizures.
Unfortunately, the anti-convulsive drugs weren't the answer. After trying a half-dozen meds, she had a VNS implant. The seizures stopped, she came off medication, and she began to utter some words! Alas, the good times were not to last. The first implant became loose in her chest and had to be replaced. The second VNS lasted six months before her body rejected it. The surgeon was perplexed and said in all his years' experience, he'd never seen this happen before. All they could do was put her back on medication.
As for school, they didn't know what to do with her either. She couldn't sit still, had little self-control, didn't talk, and didn't appear to understand directions. When she turned 13, the school changed her path from an educational one to one that focused on living skills based on her Angelman syndrome diagnosis.
At home, there were different challenges. Cyclic vomiting arrived unannounced like clockwork, lasting precisely 24 hours. When she was a teen, she still wore a pull-up at night but often would take it off, which meant laundry needed to be done on a daily basis. This Angel rummaged through every closet and every drawer, leaving a path of destruction in her wake. Loud crashes were obvious signs of trouble, but if the girl was too quiet, this was a sure sign of mischief. Visitors who didn't lock their car doors had their glove compartments rifled through, too. No one wants to visit a home where the child is oblivious to boundaries. Miss Grabby Hands was also a nightmare to take shopping. The only time relief was had was in the summer months when she could be contained in a pool.
She wasn't all bad. She did have some redeeming qualities. The girl was pleasant and laughed a lot. She was a good traveler but with all her baggage, there was no getting away. This left the parents broken, exhausted, and at odds.
The other Angel I know is an adult and isn't nearly as challenging. When she's tired, she puts herself to bed. She tends to sleep in, doesn't get up at the butt crack of dawn, and takes herself to the bathroom. The girl is no longer on medication. She helps with chores, knows how to entertain herself and is much more centered. Though it's a work in progress, she is using an AAC device to help her talk. She's even learned to sight read!
If you haven't guessed, this tale of two Angels is one in the same. For everything Jess experienced, no one predicted the young woman she would grow up to be. She is significantly challenged, but life isn't as hard as it once was. We still have bad days but they are much fewer and far between. Based on what doctors and teachers had told us, we weren't to have expectations. All I know is, anything is possible — you won't know where you are going till you get there. 
To read more about our journey, visit my blog. (We wouldn't even have a story if Jess hadn't found her AAC voice.) Also, check Angelman Syndrome News on Fridays for my upcoming columns.
***
Note: Angelman Syndrome News is strictly a news and information website about the disease. It does not provide medical advice, diagnosis, or treatment. This content is not intended to be a substitute for professional medical advice, diagnosis, or treatment. Always seek the advice of your physician or other qualified health provider with any questions you may have regarding a medical condition. Never disregard professional medical advice or delay in seeking it because of something you have read on this website. The opinions expressed in this column are not those of Angelman Syndrome News, or its parent company, BioNews Services, and are intended to spark discussion about issues pertaining to Angelman syndrome.