'Talking Back' Isn't the Same Thing for an Angel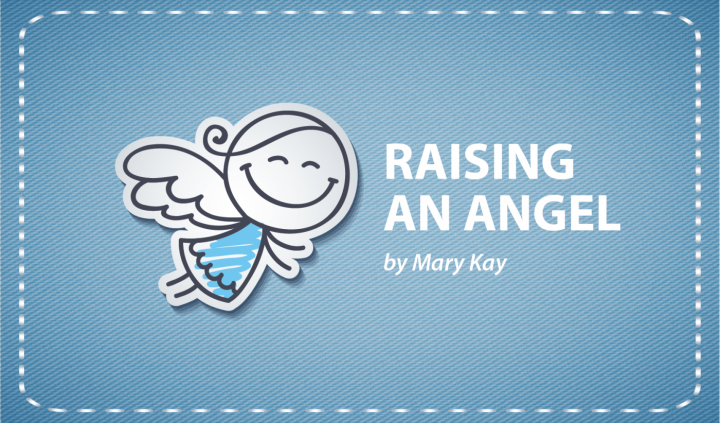 For a moment, I lost her. We had just been swimming and were walking back to the car. I doubled back to put the inner tubes away and the next thing I knew, she disappeared. The gate was locked and Jess was a gone girl. My panic lasted 8 seconds; I found her in the pool house. Did she enter because she was curious, or because her sixth sense told her there were M&M's inside?
As I walked through the door, Jess held out her found treasure toward me with a huge smile on her face. While my friend was away, we were offered the use of the pool while I took care of their pets and plants. I explained that we are working guests and these treats weren't meant for us. Jess needs to learn that food should be offered and not taken like a pirate's booty, however, she did ask me before opening a bag. Knowing my friend wouldn't mind, I let her choose a treat. Instead of M&M's, she settled on a snack-sized bag of Cheetos that go crunch, not the puffs, and then we headed for home. Because we have a "no eating in the car rule," Jess had to wait. She had to wait even longer because I wanted her to get changed before snacking.
Again, I lost her. Instead of getting changed, I found her sitting on the leather couch with her wet swimsuit. I imagine I sound like Charlie Brown's teacher to her. I redirected her again toward the bathroom. She still didn't comply and I found her lying on her freshly changed bed. Like Goldilocks, the third time was a charm, and she finally made it to the bathroom and did as asked. Over time, I have been able to fade back prompts. Some days Jess is on target and other days she's sneaky because she's tired of hearing me say no. The more choices she has, the more she expresses herself on her Talker and the less I have to intervene.
Typically, when you call a person who is not in sight, they answer (I'm still working on this with my husband, so there are exceptions to this rule). Even when Jess has her Talker, she has yet to respond with, "Here I am" or "I'm in here." When she was little, we were never successful playing the game hide-and-seek because her giggling made her easy to find.
I've only lost Jess twice. The first time she was only 5 feet away from me. She was 4 years old and we were at an indoor playground. Apparently, a ball pit is much like quicksand. She sank due to her low muscle tone. The second time I lost her, she had gotten on her Kettcar and pedaled down the driveway. She didn't realize the drive had a slope. The Kettcar picked up speed and she had to make a hard left turn out the drive so she wouldn't hit the bank of grass that was dead ahead. After calling for her for 10 minutes (this was long before she had an AAC device), we found her as she was walking home. Only later did we piece together what had happened. As for wandering, Jess has only done it once. When we didn't have any ice cream in our freezer, she walked to the neighbors knowing they had some in their garage freezer.
Jessie's Talker has the Find My iPhone app, which allows me to track her. I just logged in and can see that she is at the bowling alley with her friends, and I see my husband is at work! I guess you could call this spying, but it has come in handy. As good as this is, I need to teach Jess and her father to answer when I call them. I'm afraid my husband is a lost cause (he answers me in his head, and of course I can't hear that). However, I'm pretty sure if I make a game out of this, Jess will play along.
Turns out Jessie's being out of sight at the pool was a good thing. It made me realize how important it is for her to answer me. It's just another thing verbal people tend to take for granted.
To read more about our journey, visit my blog. We wouldn't even have a story if Jess hadn't found her AAC voice. Also, check Angelman Syndrome News on Fridays for my upcoming columns.
***
Note: Angelman Syndrome News is strictly a news and information website about the disease. It does not provide medical advice, diagnosis, or treatment. This content is not intended to be a substitute for professional medical advice, diagnosis, or treatment. Always seek the advice of your physician or other qualified health provider with any questions you may have regarding a medical condition. Never disregard professional medical advice or delay in seeking it because of something you have read on this website. The opinions expressed in this column are not those of Angelman Syndrome News, or its parent company, BioNews Services, and are intended to spark discussion about issues pertaining to Angelman syndrome.