How Angels Beat the Summer Heat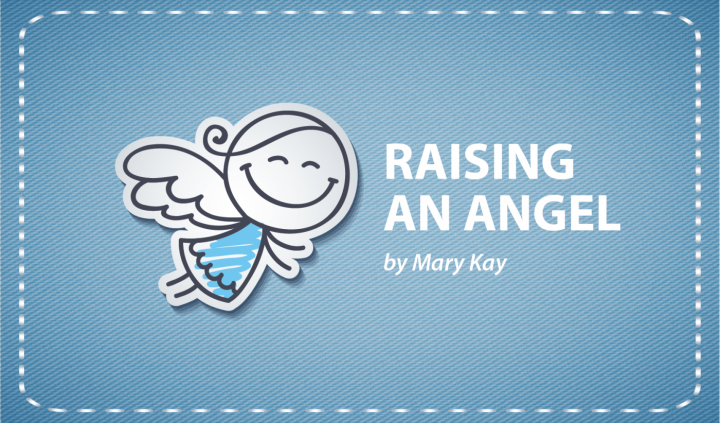 On the first day of July, there's barely a breeze. It's 88 degrees Fahrenheit, and it's not yet 10 a.m. By mid-afternoon, the temp is set to climb to a wicked-hot 97 degrees. I hear the song "Heat Wave" in my head, and I have visions of David Lee Roth (before he turned bizarre) standing in waist-deep turquoise water, the same color as the pool Jess is in right now.
It's no secret that Angels love water, and Jess is no exception. When she was younger, it didn't matter if it was an inflatable or above-ground pool, she didn't discriminate. Our biggest problem was getting her out of the water. When Jess was 7, she spent four and a half hours in the pool at a summer party. When she came out she was blue and wrinkled and she had ingested too much water.
We've never had a pool of our own, but we've always had access to one. Knowing how beneficial swimming is for Jess, I asked a local hotel if she could use their pool during the winter months. After providing the general manager with a letter of liability, he gave us a pool pass (I still think fondly of his kindness). The pool wasn't used very much by guests. However, if someone did come, we quietly collected our things and left. Since then, friends have offered Jess access to their pools, and I'm grateful I've never had to ask.
As Jess has gotten older, she's pickier and prefers in-ground pools. Until she was a teen, water temperature didn't matter. But now, it needs to be at least 80 degrees before she will venture in. I remember thinking when I was younger that I would not let myself act old — I was always going to jump in the pool, swim underwater, and not worry about getting my hair wet. Well, that didn't happen. I no longer jump (except while on vacation, when I did a cannonball), though I still prefer to swim below the surface where the world is quiet.
We weren't the first at the pool this morning. There were three tiny frogs swimming. They were looking for relief from the heat, and as they can't get out of the pool on their own, I scooped them up, showed them to Jess, and then set them free. How can you not love these little peepers?
While we were swimming, my husband was trying to get our new central AC working. It's not going well.
After lunch, we watched "Dirty Dancing," again. It's a favorite. Jess watched intently during the water scene where Baby is learning how to do a lift. I wonder if I can get Jess to try that in the pool. Ha ha ha …
Yesterday, using her Talker, Jess kept asking for lobster and a movie. My husband mentioned Red Lobster and flashed AMC tickets at us. Being practically a holiday weekend, the theater is jam-packed and no doubt the restaurant would be, too, so we decided to pass.
Besides, the market flyer had lobster going on sale. The store will cook it, so I don't even need to turn on the stove. Lobster Cobb salad is on the menu for the night. This may sound extravagant, however, it's much more affordable than for the three of us to go out to eat.
With the heat, humidity, and rain, it's prime lightning bug weather in the Smoky Mountains. It's on our bucket list to go see them. This activity has grown to be very popular, and there's a lottery system for tickets. I'm not that lucky. Our backyard will have to suffice.
What does this all have to do with Angelman syndrome? Nothing, really, other than how we're able to lead a rather typical life. As Jess has gotten older, she's more helpful and centered, which allows us all to find some peace.
That's all for now. Stay cool.
To read more about our journey, visit my blog. We wouldn't even have a story if Jess hadn't found her AAC voice. Also, check Angelman Syndrome News on Fridays for my upcoming columns.
***
Note: Angelman Syndrome News is strictly a news and information website about the disease. It does not provide medical advice, diagnosis, or treatment. This content is not intended to be a substitute for professional medical advice, diagnosis, or treatment. Always seek the advice of your physician or other qualified health provider with any questions you may have regarding a medical condition. Never disregard professional medical advice or delay in seeking it because of something you have read on this website. The opinions expressed in this column are not those of Angelman Syndrome News, or its parent company, BioNews Services, and are intended to spark discussion about issues pertaining to Angelman syndrome.