An Angel Mom Delivers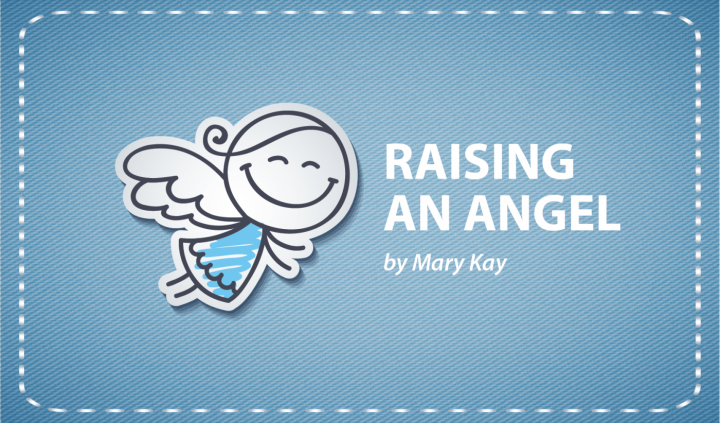 Kids get sick, it's to be expected. However, we have had some memorable moments. Like the time we were walking around a Home Depot Expo after eating an Italian dinner (being specific so you can visualize). We were in the bathroom section when I noticed Jess had lost color in her face, then let out a belch. This could only mean one thing: She was about to heave.
Long ago, I read a story in which a celebrity's child dropped his pants and pooped in a showroom toilet (which resulted in the father purchasing the $800 commode). It's a toss-up (pun intended) which "end" is worse. Floor models are not in our budget, and no one is going to do a cleanup on aisle nine, so our only choice was to make a break for the bathroom at the other end of the megastore. Thank goodness Jess was wearing an oversized T-shirt which I improvised into a catchall for the vomit. Like Moses' parted Red Sea, people with aghast and disgusted faces stepped aside and allowed us through. The bathroom cleared as soon as we entered and then we had a 40-minute drive home. Yes, I remember it well.
Last night, I heard that "burp" and knew we had only a moment before all hell would break loose. Whenever Jess is about to toss her cookies, she acts like a deer in headlights and freezes in place. (She can also be contrary like this.) She gets indignant when I force her to move. To make matters more difficult, she won't use a bucket or the throne. Over the years, after heavy negotiations, she has agreed to get in the bathtub — it's the safest place when she isn't steady on her feet. Water is distracting and also allows me to contain the chunder. After several waves of sickness, followed by a couple of loads of laundry, she went to bed only to have this cycle repeat two more times. We were able to get some sleep, but all woke up feeling like hard-partying rockers.
Needless to say, Jess is home today and I didn't go to work. Our house is under quarantine, and I'm sure I have cooties. I'm wondering if this was a dirty job that Mike Rowe had ever done? I mean, I've seen him in some very gross and unsanitary conditions, but I don't know if caregiver to a child with projectile vomit was one of them. In his own words, he "tries to keep up." All I can say is, Mike, consider this a challenge. But after watching his Ted Talk, there's no doubt he can handle this.
Before I became a mom, I had considered and dismissed several career choices. I couldn't be a nurse because I get faint when blood is drawn. I couldn't be a dental hygienist or hair stylist, either, because "what if the people aren't clean?" I'd have to touch them, and this would gross me out. If someone told me that one day I'd be catching retch in my bare hands, I never would have believed them. However, when it comes to your own child, anything can and will be expected of you — the sky's the limit.
The illness isn't as fast-moving as I had hoped. Jess still feels warm. I'm letting her sip ginger ale and nibble on saltiness. At least she is in a more reasonable frame of mind. While she and Roxy watch "Mamma Mia!" on an iPad, I need to disinfect the house so my husband will return home.
This afternoon, an Angel mom asked, "Can I get you anything?"
"I'm jonesing for a cup of coffee."
"What kind of coffee do you like?" The next thing I knew, the Angel mom delivered my coffee, prepared to my exact specifications. Jess fell asleep on a comforter on the map room floor (our den). My friend and I sat outside and visited. Just the break in the day I needed.
Some will read about our day and commiserate because they are unsung heroes. For others, they might rethink "parenthood" (it can be a rough part of town), and the rest will feel validated because they chose not to have children. It's all good. We all do what we have to do. You never know what life entails until you are in the moment.
It isn't all bad, I've always said, "We are only one stomach flu away from a better figure." Maybe I need that quote made into a T-shirt? Better yet, I need one that says "Angel Moms Deliver!"
To read more about our journey, visit my blog. We wouldn't even have a story if Jess hadn't found her AAC voice. Also, check Angelman Syndrome News on Fridays for my upcoming columns.
***
Note: Angelman Syndrome News is strictly a news and information website about the disease. It does not provide medical advice, diagnosis, or treatment. This content is not intended to be a substitute for professional medical advice, diagnosis, or treatment. Always seek the advice of your physician or other qualified health provider with any questions you may have regarding a medical condition. Never disregard professional medical advice or delay in seeking it because of something you have read on this website. The opinions expressed in this column are not those of Angelman Syndrome News, or its parent company, BioNews Services, and are intended to spark discussion about issues pertaining to Angelman syndrome.