Angels Are Clever and Sneaky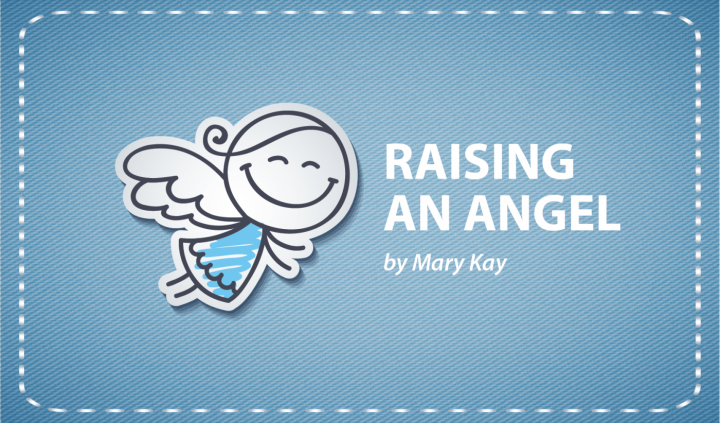 Well, well, well, if Jess isn't turning into a regular 007. Typically, when caught, she's a deer in headlights, but not this time. While we were getting dressed for a Sweet 16 party, Jess was helping herself to treats tucked away in the garage refrigerator. All this birthday talk had reminded her that somewhere there were cupcakes left over from a birthday earlier in the week, and she made it her mission to find them. Jess does her best sleuthing when I'm not in the room.
Because she does have some sense of decorum, she neatly pulled back the foil cover and removed the candles; however, she still needs to work on portion control. Jess put as many cupcakes as could fit into her snack bowl, which left one vanilla cupcake in the pan. As to what she was thinking, my best guess is, "No one gets left behind." She's thoughtful like that, so she proceeded to eat the frosting off the lonely cupcake.
Like the title character in the story "If You Give a Mouse a Cookie," after her messy snack, she wanted to wash her sticky fingers. It's important to recognize milestones even when they are tiny. Even though there was frosting all over the kitchen faucet, I'm pleased that she attempted to be clever. It's rewarding to see her awareness grow. Until now, she's been good about picking up things that have fallen, putting items back where they belong, and even taking the initiative to get ready for bed. But she has failed at hiding her mischief.
One of the hardest aspects about raising my Angel daughter has been that milestones have not been obvious. The result has been that I have unintentionally enabled her. Because Jess did not demand to do things on her own, I would step in to "help." For me, it's been especially difficult to learn when to fade back. How can I expect her to improve her skills if I do for her what she should be doing for herself?
It's hard to accept that, sometimes, I'm no better than the aides she had at school. The ones who completed her artwork and sent it home as hers. When we do their work, it takes away their confidence and sense of pride. Jessie gets excited to show me her abstract drawings. She never cares to share with me the ones other people completed while she sat there. Although I understood this, it took me a while to generalize this information.
Being self-sufficient, check.
Covering your tracks, check.
The ability to be sneaky, priceless!
To read more about our journey, visit my blog. We wouldn't even have a story if Jess hadn't found her AAC voice. Also, check Angelman Syndrome News on Fridays for my upcoming columns.
***
Note: Angelman Syndrome News is strictly a news and information website about the disease. It does not provide medical advice, diagnosis, or treatment. This content is not intended to be a substitute for professional medical advice, diagnosis, or treatment. Always seek the advice of your physician or other qualified health provider with any questions you may have regarding a medical condition. Never disregard professional medical advice or delay in seeking it because of something you have read on this website. The opinions expressed in this column are not those of Angelman Syndrome News, or its parent company, BioNews Services, and are intended to spark discussion about issues pertaining to Angelman syndrome.