Our Angel Derives Great Pleasure From Her Morning Smoothies

Summer is right around the corner, which means it's the perfect time to enjoy the satisfying and nutritional advantages of a fruit smoothie. In our house, however, smoothies aren't just for summer. Since kindergarten, our 12-year-old Angel, Juliana, has had a morning smoothie at school to supplement her breakfast.
When Juliana was a baby, she suffered from gastroesophageal reflux disease. Reflux results from a backup of stomach acid into the esophagus. Gastrointestinal issues are common for children with Angelman syndrome. At one point, Juliana's reflux was so bad she practically lived in a bib. We constantly had to change her clothes.
After discussing it with her pediatrician, we were referred to a great gastroenterologist who put Juliana on a low-fructose diet that she still follows to this day.
Tackling tummy woes
Early on, battling Juliana's reflux proved challenging. It seemed that even the smallest amount of food would set the reflux in motion. That led me to scheduling smaller meals throughout the day, and the idea for her daily smoothie was born. In the mornings before school, she eats a small breakfast. Then, when she settles in at school, she'll be given a smoothie.
Morning smoothies became a way to give her something nutritional without overwhelming her system. Generally, they're made from just fruit and coconut milk, but I also add protein powder to make them more filling. Over the years, they've served their purpose as intended.
One year, I stopped giving them to her when it seemed her reflux was under control. Her tummy problems seemed to be subsiding, and frankly, I was tired of making them. So when school started that fall, I made sure no morning smoothies were in sight. I'm not sure if it was hunger or habit that drove her discontent, but Juliana was not happy when she didn't get her smoothie in the morning.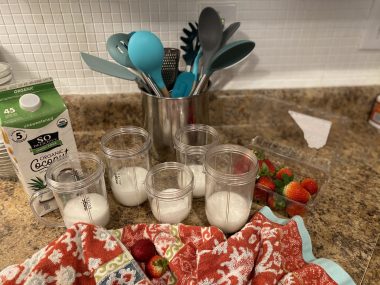 Nature or nourishment?
Without her smoothie, Juliana had the worst day. And then another. The fussing seemed to start at about the same time that she normally would have her daily beverage. Anxiety is a common trait of Angelman syndrome. Changes in a routine or surroundings can be a trigger. I didn't think something as simple as a smoothie could cause so much trouble. Instead, I thought her behavior was a fluke until her teacher told me she was fairly certain the absence of a smoothie was causing the ruckus.
That was over five years ago, and I haven't dared to eliminate them ever again. Next fall, however, Juliana will start middle school, and I'm itching to move away from her coveted drink. Then again, it's easy to say that. Things will surely be different when the time comes.
I'm sure there will be more morning smoothies in her future and mine. With something so nutritionally and emotionally beneficial, how will I ever be able to deny her its pleasure?
---
Note: Angelman Syndrome News is strictly a news and information website about the disease. It does not provide medical advice, diagnosis, or treatment. This content is not intended to be a substitute for professional medical advice, diagnosis, or treatment. Always seek the advice of your physician or other qualified health provider with any questions you may have regarding a medical condition. Never disregard professional medical advice or delay in seeking it because of something you have read on this website. The opinions expressed in this column are not those of Angelman Syndrome News or its parent company, BioNews, and are intended to spark discussion about issues pertaining to Angelman syndrome.