Can't Find a Special Needs Product? Maybe You Should Create It
When raising a child with Angelman syndrome, run-of-the-mill products don't always provide what you need. That isn't always a bad thing, though. Not finding what you need could serve as a catalyst to release creativity you might not have known you had.
Some of the best creations come from necessity. And who better to design something for a special needs life than the parents, who understand the importance of a specialized product?
Shopping done right
I'll often head to a specific store where I know there will be a Caroline's Cart for my 11-year-old Angel, Juliana. Caroline's Cart was created by a special needs mom.
Drew Ann Long designed and patented the shopping lifesaver when she realized that a standard grocery cart wouldn't meet her daughter's needs as she got older. Simple ideas like this make me think about the power of creation that can emerge with special needs living.
When solutions spring from problems
There are so many parents like Long. Inspired by her son with Angelman syndrome, Courtney Gray makes special sleepwear just for Angels. In my own neighborhood, Rise Coffee & Tea employs people with special needs.
Nicole DeWard was inspired to start Rise Coffee & Tea as an employment path for her special needs daughter, and to help her daughter shine her light in the world.
I find stories like these so beautiful and encouraging. Through the years, I've had my own little sprinkle of special needs creativity. Although I have not launched a product, I did begin my freelance writing career by blogging about my experiences as a special needs parent.
I was already a DIYer before I became a special needs parent. But since Juliana's needs are always changing, DIY is more about necessity than fun now. Over the years, I have designed or created the following:
Special needs bibs
Special needs onesies
Chew jewelry
The list grows as time passes. I never planned to create these things. Most of the creations come from necessity when I can't find a specific product I need.
When I have exhausted a Google search or realize that a store-bought product won't work, I switch gears and get creative.
Sweet dreams, little angel
Juliana's safety bed was born out of this experience. After the insurance company denied our safety bed request, I decided not to go through the extensive appeal process. Instead, I scoured through countless safety beds that we could build.
Juliana is highly active at night, so an enclosed bed is a necessity for her. However, I didn't like the options I had found. Moving on, I headed to Pinterest to find DIY ideas, and a few popped up. I even considered building a DIY safety bed enclosed in a castle that we had considered years earlier.
I never gave up on figuring out what to do, and eventually, I found a Crate & Barrel bed that spoke to my heart. I sketched some ideas to make the bed safe and enclosed. We found a comparable bed frame from Ikea, and a sleeping star was born.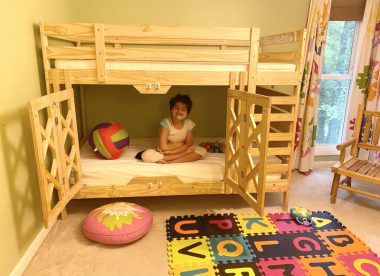 Years have passed since we built Juliana's safety bed. Despite the sleep challenges that Angels may face, Juliana is a good sleeper who typically clocks in 8-10 hours of sleep per night. I wish I could say it's because her parents built her a comfortable and stylish safety bed, but that wouldn't really be true.
What doesn't kill you makes you create more
To date, building Juliana's safety bed is one of the hardest DIY projects I have ever taken on. I cried a lot during the process, because each time we hit a hiccup, I needed to tweak or adjust the plans all over again.
I'm sure all of the special needs parents I mentioned had similar experiences. However, those little setbacks and frustrations are worth the end result of making our lives easier in some way. As trying as it was, I would go through the process again to make that bed for Juliana.
Not everyone likes DIY projects or aspires to have a business that makes products. However, I am learning that this new path is bringing some incredible experiences into my life, and these experiences make me a better person.
Most importantly, I'm doing things I never would have dreamed possible if not for my Angel.
***
Note: Angelman Syndrome News is strictly a news and information website about the disease. It does not provide medical advice, diagnosis, or treatment. This content is not intended to be a substitute for professional medical advice, diagnosis, or treatment. Always seek the advice of your physician or other qualified health provider with any questions you may have regarding a medical condition. Never disregard professional medical advice or delay in seeking it because of something you have read on this website. The opinions expressed in this column are not those of Angelman Syndrome News, or its parent company, BioNews, and are intended to spark discussion about issues pertaining to Angelman syndrome.