Pale Eyes That Typify Angleman Patients Linked to GABRB3 Gene in Early Study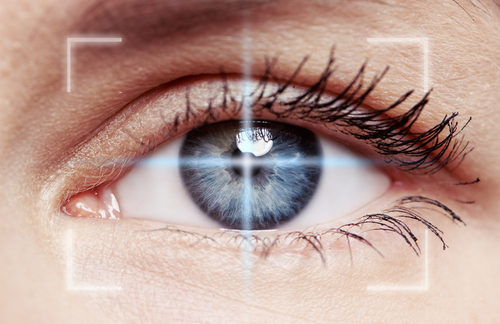 A possible reason for the reduced ocular pigmentation — the pale eyes — found in people with Angelman syndrome and Prader-Willi syndrome was described by scientists at Vanderbilt University Medical Center.
The research team found that mice lacking the GABRB3 gene have nearly complete loss of retinal pigmentation. Since this gene is located in the same region of chromosome 15 that is often deleted in Angelman patients,  GABRB3 may be responsible for the ocular and visual defects commonly associated with this disorder.
The study, "Beyond Epilepsy and Autism: Disruption of GABRB3 Causes Ocular Hypopigmentation," was published in Cell Reports.
Researchers used mice genetically modified to either lack the GABRB3 gene completely or to have only one gene copy — instead of the two copies most people carry, one from the mother and another from the father.
Animals in which GABRB3 was completely absent had about 3% of the normal amount of melanin, the natural pigment that gives color to the eyes.
Animals with only one copy of the gene had a 32% reduction in melanin levels compared to healthy controls.
To make sure this effect was not due to the action of neighboring genes, researchers analyzed melanin in the eyes of mice lacking the UBE3A gene — a key player in Angelman syndrome that is found in the same region of chromosome 15. Interestingly, these animals showed normal melanin levels and did not have discolored eyes, suggesting that the effect was directly linked to GABRB3 alone.
Mice lacking the GABRB3 gene also had poorly working melanosomes (structures that produce melanin), which were distributed within tissues in ways different from that observed in normal mice.
Although only the GABRB3 gene was deleted, its neighboring genes — which include GABRA5, GABRG3, and OCA2 — were also reduced in the brain and eyes of these mice. The UBE3A gene was not altered.
These results suggest that GABRB3 is an important mediator of melanin production and eye color formation causing ocular hypopigmentation — a lack of melanin pigment in the eyes — and visual defects in Angelman and Prader-Willi syndrome patients.
Further studies are necessary to fully reveal the critical role of GABRB3 in brain and eye development and in related neurodevelopmental disorders, the researchers said.